The KenCraft 25 incorporates a sharp deadrise at the transom and the bow for those rides offshore in rough water, yet the family safety is not forgotten with our signature high freeboard at the amidships as well as the stern of the boat. Of course the traditional Carolina Bow Flair is there like all of our KenCraft boats. For additional safety, we will have a wraparound hand rail recessed inside the forward fish/storage boxes. 
There is a 5' long fish box/storage box in the floor forward of the console which will hold either your large fish or your island chairs for the cruise. Forward seating boxes are fully foamed and drain overboard while also being able to store your very large fish.   We have a livewell in the rear Euro transom that holds 32 gallons and for the fisherman that needs more, we offer an optional live well leaning post that will hold approximately 45 additional gallons.  There will be a fold down bench seat in the rear as well.  Fuel tank capacity on the KenCraft 25 is 160 gallons for a long cruising range to the canyons.
The walkdown console will have almost 6' of headroom and will house the batteries on a built in shelf that is part of the console and not under your feet when you are inside the console.  All water on the deck will drain via the transom door and not through in floor scuppers like most competitors. This means any water you might take in the boat from an unexpected wave, will quickly and safely escape out the back of the boat much faster than in floor drains; a true self bailing boat.  
Tanks
Fuel Tank Capacity:
160 gal
Other
Boat Class:
Bay Boats, Center Consoles
Contact Us
More From KenCraft
---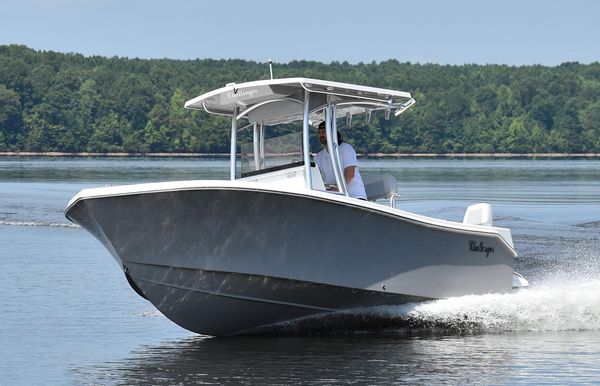 View Details